Strawberry Freezer Jam
When you luck into fresh strawberries, there's no better way to use them up than in jam, and this jam is as easy as can be. With just a few minutes of effort, you'll be reaping the rewards for months to come. Somehow freezing seems to capture that just-picked flavor better than almost any other form of preservation, so don't think for a minute that this easy recipe is too good to be true.
Ingredients
1

quart (4 cups) strawberries, cut in half

4

cups sugar

3/4

cup water

1

package (1 3/4 ounces) powdered fruit pectin
Steps
1. Mash strawberries with potato masher or in food processor until slightly chunky (not pureed) to make 2 cups crushed strawberries. Mix strawberries and sugar in large bowl. Let stand at room temperature 10 minutes, stirring occasionally.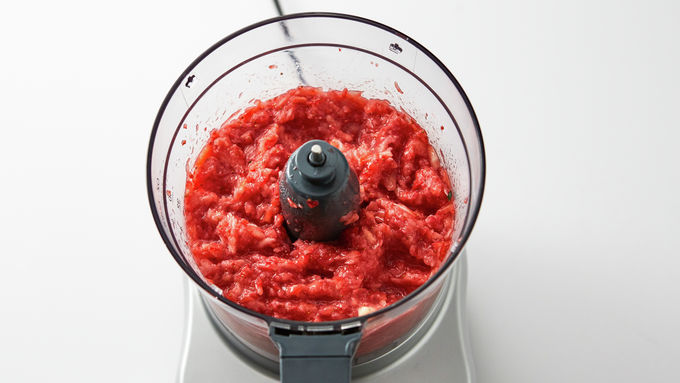 2. Mix water and pectin in 1-quart saucepan. Heat to boiling, stirring constantly. Boil and stir 1 minute. Pour hot pectin mixture over strawberry mixture; stir constantly 3 minutes.
3. Immediately spoon mixture into freezer containers, leaving 1/2-inch headspace. Wipe rims of containers; seal. Let stand at room temperature about 24 hours or until set.
4. Store in freezer up to 12 months or in refrigerator for up to 3 weeks. Thaw frozen jam in the refrigerator and stir before serving.
Expert Tips
This recipe makes 5 half-pints of jam—that's a lot of biscuits! Don't forget you can also use your jam as filling for your thumbprint cookies. At Christmastime, its color is perfectly seasonal. Jam also makes a wonderful filling for your layer cake.

No strawberries? Make blueberry or raspberry jam instead—using the slight modifications below.

To make blueberry freezer jam, substitute 2 pints (4 cups) blueberies, crushed (2 ½ cups crushed) for the strawberries. Reduce sugar to 3 cups. Add 1 teaspoon grated lemon or orange peel, if desired. Reduce water to ½ cup.

To make raspberry freezer jam, substitute 3 pints (6 cups) raspberries, crushed (3 cups crushed) for the strawberries. Increase sugar to 5 ½ cups.